What's worse than driving up a mountain in the middle of a snow storm?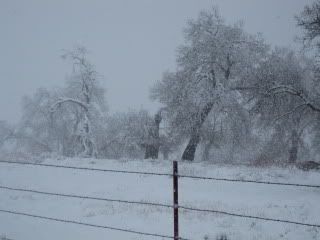 Driving up the mountain in the middle of a snow storm without chains, without 4-wheel drive, and without a pilot and co-pilot who have experience driving in a snow storm.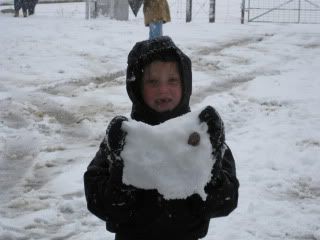 Did I mention that one side of the highway was no less than a 100 foot drop to the valley below?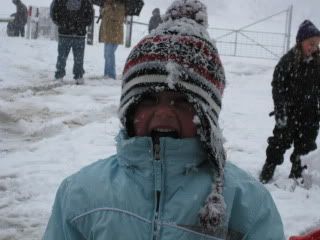 I am aware that the snow storm I speak of has nothing on a snow storm on the East Coast, but for a native San
Diegan
, who sees sunny days ninety percent of the year, this snow storm was a blizzard!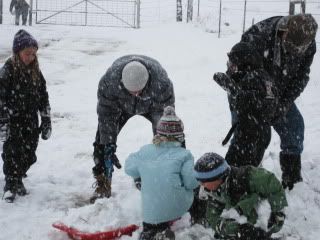 It's a good thing I was born and raised on the West Coast, because today I learned that driving in the snow is NOT for me.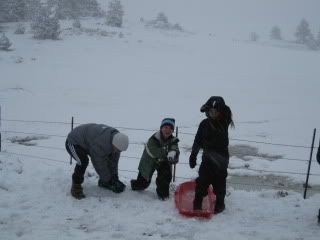 After a fun time of making snowballs and throwing them at one another, it was time to head back down the mountain. We waited for a line of other cars to pass ahead so that we could follow in their tracks.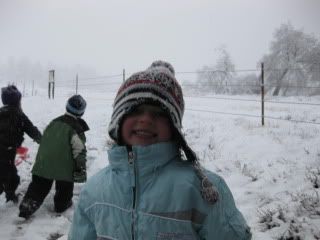 After travelling a mile down the highway, we were stopped by a number of cars who were scattered about on each side of the road. They were warning drivers to pull over and wait because the road conditions were so bad.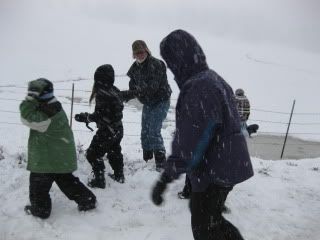 I failed miserably at remaining calm for my kids, who clearly wore panic on their faces. I imagined our car, plummeting....100 feet....to the white covered valley...below.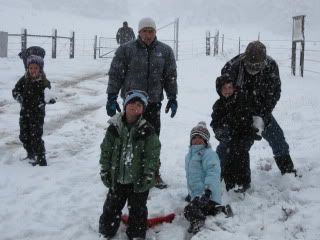 Just as I was preparing what my final words to my family would be, Mark warned us of the car that was coming our way.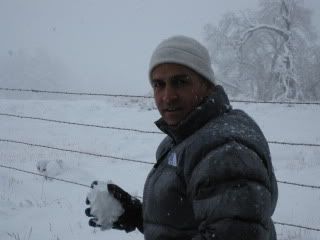 Two seconds later, we felt the thump of the truck that was unable stop on the icy roads. It smacked right into the front of us, causing an eruption of even more panic!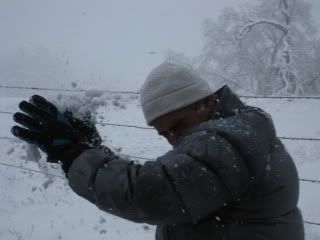 In my mind, we were going to be sitting on the side of the highway until the snow stopped. I was planning how I would keep my family warm over night.
I was worried because we had already eaten the bag of homemade brownies that my mom had brought along for a treat, and there were only 4 more packages of peanut butter crackers left in the box. That wouldn't even be enough to satisfy the appetite of our infamously hungry Papa Jim, who was along for the ride.
I imagined the warmth and safety of our beautiful home, and wanted to be there...BADLY.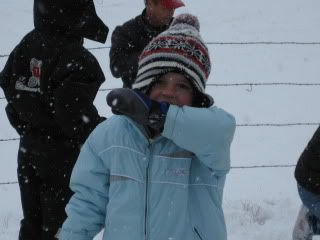 While Mark got the driver's license number of the man who hit us, a Sheriff drove through, urging us all to make our way slowly down the mountain. He warned that conditions were only going to get worse.
The only thing that could be worse in my mind, was making our way slowly down the hill, WITHOUT brakes! How could it possibly be worse?
With tension high, we pulled in behind the Sheriff and crawled down the road, trying desperately to keep our tires in the tracks of those in front of us.
With the passing of each 15 feet, and the continued decent in elevation, I knew our chances of surviving this whole ordeal were getting greater. The roads began to clear and the snow fall began to cease. I could finally see my future again!
I've never been happier to be home in my entire life. I gladly opened the front door to the complete disarray that was left on our way out. I didn't care that I had 4 loads of ski-clothes laundry to do and 4 soaking wet children to bathe.
I'm just happy to be alive!!!
(Though my account of what happened today at the top of that mountain may sound extreme, my mom and step dad's account may differ!)